Creating Funny Sales Videos that Sell
Creating Funny Sales Videos that Sell
No one wants to hear a sales pitch, but everyone loves a good laugh. There's no doubt today's online surfers are all about the entertainment value. The more heartwarming, inspiring or amusing a video, the more likely that it will become viral. And wouldn't you just love it if that viral video were marketing your product? Of course you would.
Making a funny sales video and posting it online can be fairly inexpensive. But how do you design a sales video that gets posted and re-posted over and over? We've scoured the internet to come up with 7 tips and strategies, complete with video examples that will steer you toward creating a funny sales video that brings on the laughs without making you look like a fool.
Interesting Business Name
With only seconds to grab the viewer's attention, the title of your video should pique the viewer's curiosity enough to make them stop and watch. Take time to make it not only memorable, but with enough keywords that will make your video more likely to show up on search engines.
Dollar Shave Club's tagline "Our Blades are F**king Great" certainly stops the viewer in their tracks. Add the fact that they've got a quirky sense of humor about a highly-competitive product, they include their logo throughout the video (bottom right corner) and give the viewer a great reason to use their service "So stop forgetting where to buy your blades each month and start deciding where you're going to stack all those dollar bills I'm saving you." and this video is hands-down one of our favorites.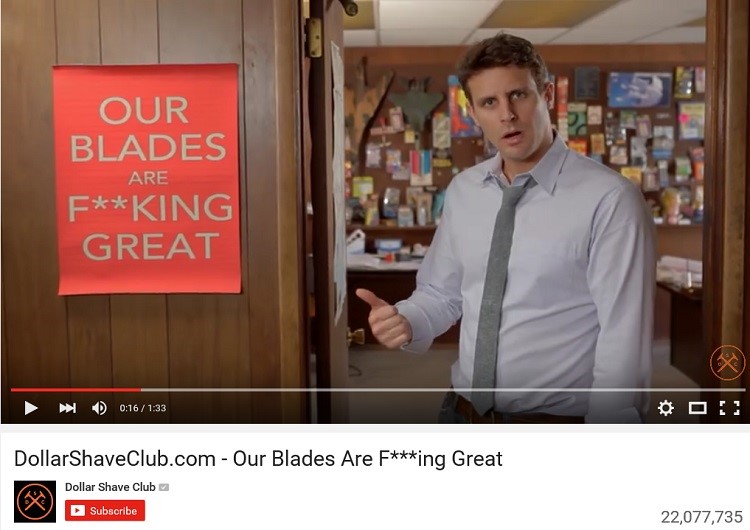 Get To The Point
Everyone is skimming content and the attention span of internet surfers is short. You certainly don't want them to abandon your video before you've presented your product. With only seconds to get out your message, be sure to have them laughing within the first 10 seconds and introduce your company within the first 30 seconds. And with most viewers abandoning videos before 60 seconds, it's important to keep your sales video short and sweet and generally under 1.5 minutes.
This Cars.com commercial is short at only 30 seconds and mentions the company within 3 seconds. Their brand "All drive. No drama" is emphasized in all of their humorous sales videos. We particularly like this one offering a couple a puppy that turns out to be a wolf cub being protected by its mother-just in case they missed the drama while buying their car.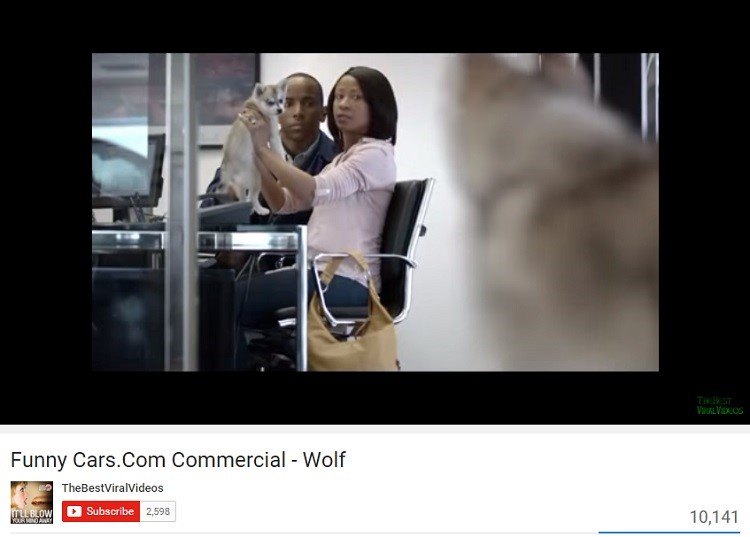 Surprise The Viewer
Some of the best sales videos we watched did the unexpected. By leading the viewer in one direction and then turning around and doing something else, you've created the mechanics of your punchline.
Gorilla Gripper does a great job making you believe these construction workers moving plywood are staring at their sexy female co-worker. When she actually demonstrates the ease of using the product she's carrying, the viewer realizes it's the product they're drooling over. The video ends with the perfect touch of humor when the Gorilla Gripper appears in the hand of one of the men and the other is suddenly wearing the same skimpy tank top and shorts as his female co-worker. This video hits all the right notes to be shared over and over.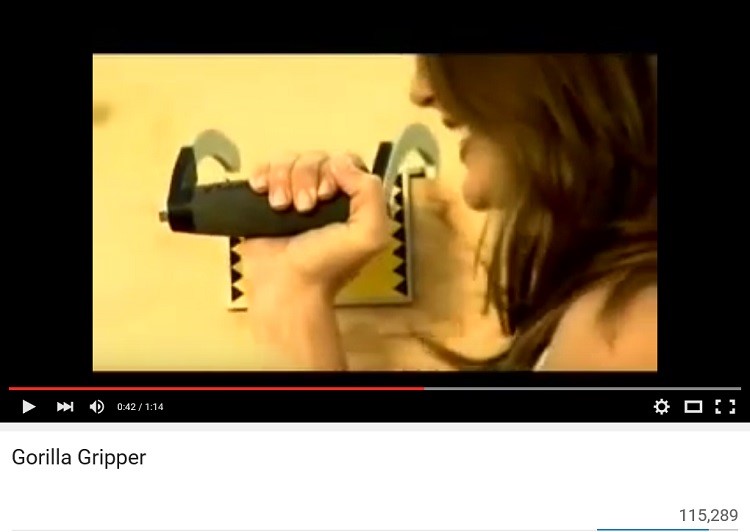 Give Them A Solution
Seeing your product in action is one of the best selling tools you have in your video arsenal. After you've engaged viewers with your story, show them how your product is the solution to solve their problem. Without trying to wow them with the best product ever, demonstrate your products benefit to the viewer.
Live-Hive not only has a great title "Sell Like the Closer", it demonstrates exactly how their software works and how it will benefit the individual.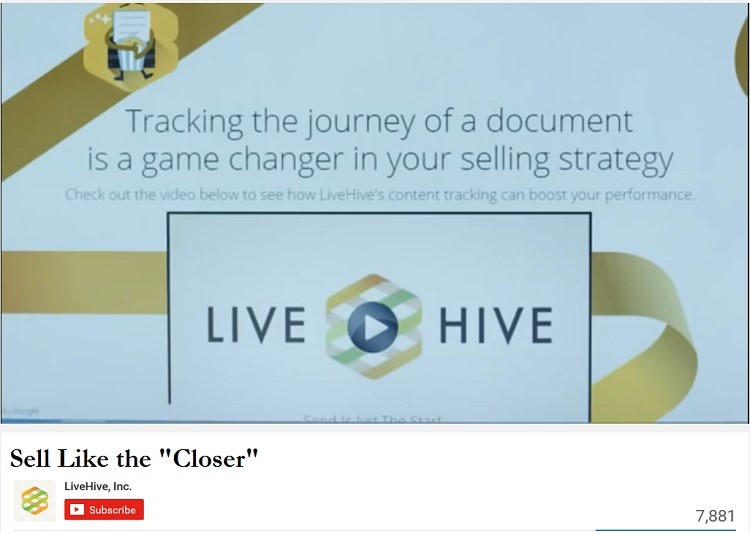 Tell Them What To Do Next
Be sure your sales video includes a call-to-action. Though it may be part of your website, keep in mind that great sales videos relay the message regardless of where they're posted, from blogs, to social media, your call-to-action needs to be part of the video itself.
Not only does this 1-800 Contacts sales video have a unique theme, it very clearly tells the viewer that they refuse to "take more than three steps", illustrating the ease of using their service. The video concludes with a definitive call-to-action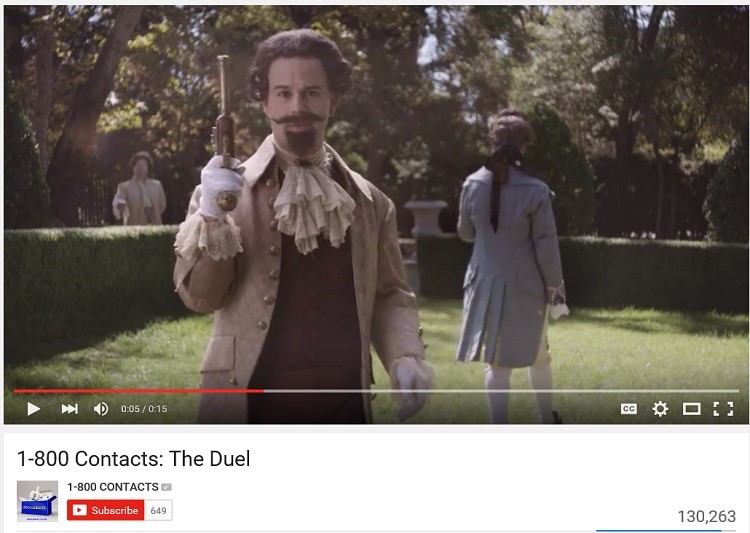 Everyone Can Relate
The funniest jokes are those that are relatable in a personal way to many people. Create a communal problem where the viewer can put themselves in the video, then develop the punchline and solution around it.
Our offices might not be filled with buffoons, but when people feel like they're the only sanity in the middle of chaos, a new job can look attractive. Career Builder certainly uses relatable visuals to show the problem and then offers a great solution.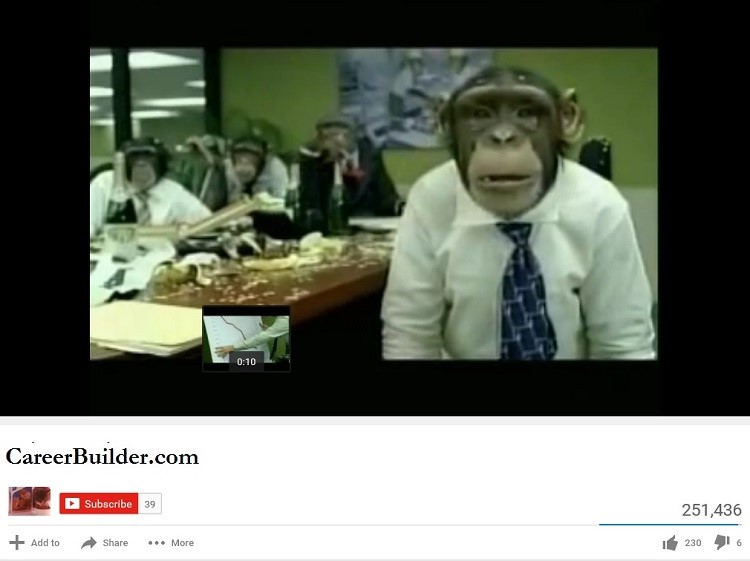 Become More Human
If you can literally humanize the problem or your product, your brand instantly becomes more relatable.
The Allstate "Mayhem" commercials humanizes the problems that can cause accidents. We particularly like the mayhem caused by a faulty GPS.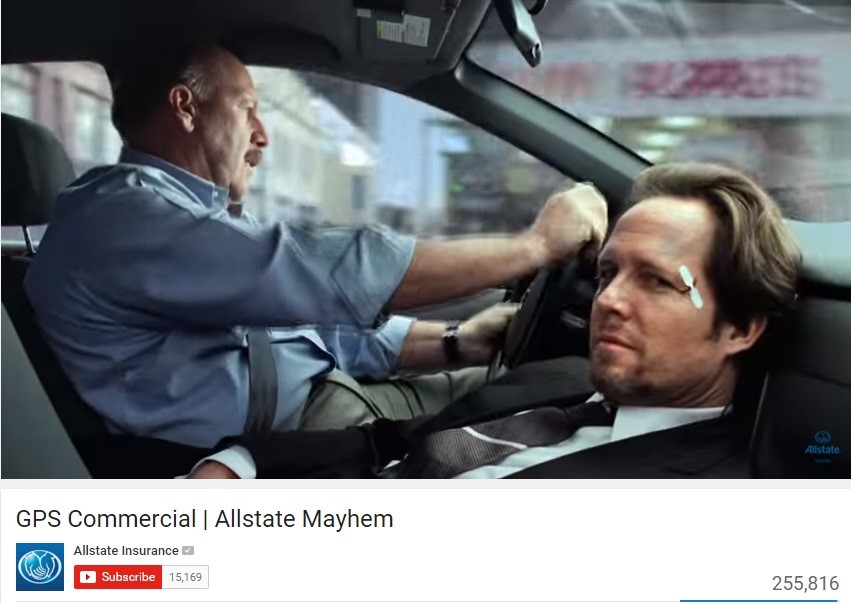 Kinaxis, a supply chain software, equates their "simplified" product to a low maintenance girlfriend who understands your needs. The concept is simple, funny and relatable, communicating to the viewer that the Kinaxis software is more attractive than the competition.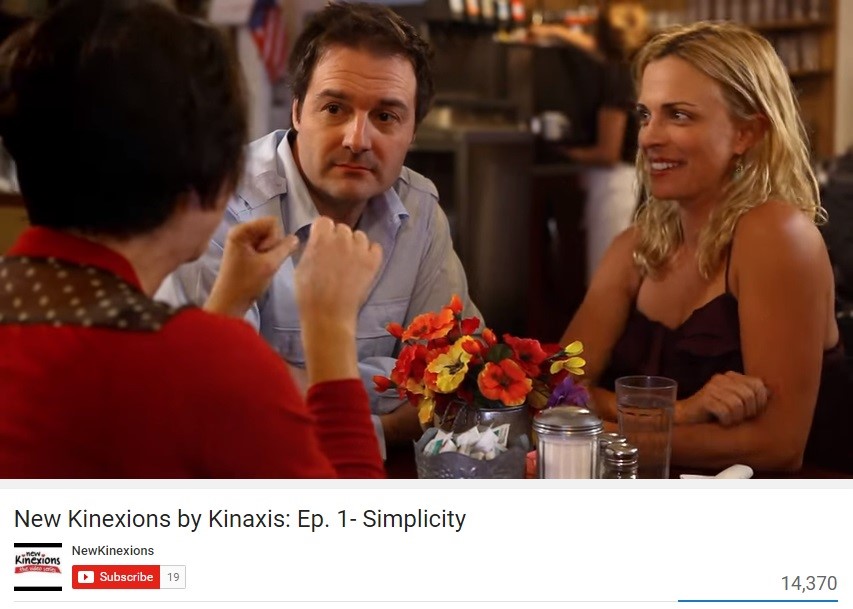 Always keep in mind that memorable sales videos are relatable and establish rapport with the viewer. They also don't focus on one product, but reinforce your brand. By adding the right touch of humor that is neither too casual nor offensive, your potential customers get to see the human side of your company. It may take some planning to come up with funny material, but when a viewer enjoys a good laugh, they're more likely to share your video with their social group-turning passive viewers into buying customers.